Click on a thumbnail to view its larger image in a new window: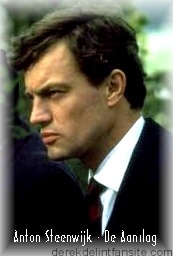 English: The Assault
German: Der Anschlag
Won the 1987 Academy Award for
Best Foreign Language Film
Derek de Lint as "Anton Steenwijk"
Director - Fons Rademaker
Country - Netherlands
Filmed in - Soest, Netherlands and London, England
Language - Dutch (Dubbed in English on US videos.)
Production Company - Cannon Films
Produced by Fons Rademakers
Writers - Gerard Soeteman (screenplay), Harry Mulisch (novel)
A Nazi collaborator is assassinated and then moved in front of the Steenwijk's house by the Dutch resistance. Twelve-year-old Anton witnesses the deportation/murder of his parents and the burning down of his house. Growing up he still can't let go off the pain that this has caused. During the course of his life, he finds out what really happened that night.
Cast (in same order as credits):

Derek de Lint - "Anton Steenwijk" (adult)
Marc van Uchelen - "Anton Steenwijk" (young)
Monique van de Ven - "Truus Coster/Saskia de Graaff"
John Kraaykamp - "Cor Takes"
Huub van der Lubbe - "Fake Ploeg"
Elly Weller - "Mrs. Beumer"
Ina van der Molen - "Karin Korteweg"
Frans Vorstman - "Father Steenwijk"
Edda Barends - "Mother Steenwijk"
Casper de Boer - "Peter Steenwijk"
Wim de Haas - "Mr. Korteweg"
Hiske van der Linden - "Young Karin Korteweg"
Piet de Wijn - "Mr. Beumer"
Akkemay - "Sandra"
Kees Coolen - "Gerrit-Jan"
Eric van Heyst - "Mr. de Graaff"
Mies de Heer - "Elisabeth"
Olliver Domnick - "Man from SD"
Amadeus August - "Hauptsturmfuhrer"
Matthias Hell - "FeldWebel"
Horst Reicher - "German Officer"
Ludwig Haas - "General von Braunstein"
Michel van Rooy - "Young Cor Takes"
Guus Hermus - "Mr. van Lennep"
Manon Alving - "Mrs. de Graaff"
Tane Das - "Jaap"
Cas Baas - "Henk"
Egbert van Paridon - "Geert"
Okke Jager - "Clergyman"
Eric van der Donk - "Simon"
Ab Abspoel - "Man in pub"
Pierre Bokma - "Student"
Willem van de Sande-Bakhuyzen - "Student"
Filip Bolluyt - "Student"
Jan Pieter Koch - "Student"
Gijs de Lange - "Student"
Kees Hulst - "Student"
Kenneth Oakley - "Guide in Westminster Abbey"
Eric van der Hoff - "Bastiaan"
Krijn ter Braak - "Uncle Peter"
Nico Jansen - "Commanding guard"
Willem van Rinsum - "Agent"
Lex Wiertz - "Herring Seller"
Karl Golusda - "German Officer"
Harold Bendig - "German Officer"
Monique Spijker - "Coffee waitress"
Paula Petri - "Woman in window"
Mike Bendig - "Young Fake Ploeg"
Morman Longdon - "English general"
Lisa Takacs - "Little Sandra"
Rogier van Gestel - "Peter, age of 18"
Mario Ramos - "Peter, age of 8"
Dott Martini - "Doctor"
Anton Kothuis - "Narrator"
Crew
Executive Producers - Menahem Golan, Yoram Globus
Cinematography - Theo Van de Sande

Original music - Jurriaan Andriessen
Costume Design - Annemarie van Beverwijk
Film Editing - Kees Linthorst
Art Director - Dorus van der Linden
Associate Producer - Jos van der Linden
Production Supervisor - Panos Nicolaou
Assistant Editor - Genevieve Saifi
Leesverslag van De Aanslag
Harry Mulisch (Dutch)
Roger Ebert's Review article dated 2/27/87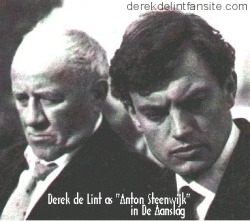 Photos are copyrighted by the respective owner(s) of DE AANSLAG.