Click on a thumbnail to view its larger image in a new window:


Derek de Lint as "Philippe"


"Simone"


"Mr. Hamelinck"




Dutch: Dagboek van een oude dwaas
French: Journal d'un Vieux Fou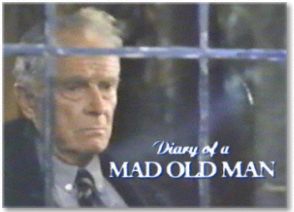 (Ralph Michael pictured above as "Mr. Hamelinck")
Netherlands/Belgium/France - The Cannon Group, Iblis Films, Dedalus and Fons Rademakers
English
Approximately 93 minutes long
Director - Lili Rademakers
Writers -
Hugo Claus (screenplay)
Junichiro Tanizaki (novel)
Director of Photography - Paul van den Bos
Music - Egisto Macchi
Produced by - Fons Rademakers, Pierre Drouot, Henry Lange
Executive Producer - Menahem Golan, Yoram Globus

Cast:
Ralph Michael- "Mr. Marcel Hamelinck" (the "Old Man")
Beatie Edney- "Simone" (the daughter-in-law)
Suzanne Flon - "Mrs. Denise Hamelinck"
Derek de Lint - "Philippe" (Philippe Hamelinck, the son)
Dora van der Groen - " Alma"
Ina van der Molen - "Karin"
Premiered: January 14, 1988
The only comment I want to add to the below description besides "gorgeous photography!" is "foot fetish." :-)
From the back of the video box (copyright © 1989 Heron Communications, Inc.):
Wealthy Mr. H seems to have lost everything: his health, his youth, his wife and even control over his own fortune. But he has kept something far more important: his desire for women. And that life-affirming passion, fueled by the tempting nearness of his sultry daughter-in-law, let's him escape from his sickbed into the rich world of fantasy and remembrance.

Look inside the Diary of a Mad Old Man and you'll find humor and tradgedy, wisdom and sensuality. Based on Junichiro Tanizaki's acclaimed novel, it is a film for everyone who's ever harbored a secret sexual wish.
Read customer reviews of the novel by Junichiro Tanizaki
Pics added 2/1/99
Credits: Nethlandfilm.nl , IMDb
Translations: InterTran™
Photos are copyrighted by the respective owner(s) of Diary of a Mad Old Man