Click on a thumbnail to view its larger image in a new window:


Derek de Lint
as Dr. Thost (39K)


Christopher Reeve
as Major John Dodge (12K)


Anthony John Denison
as Captain Corey (11K)


Judd Hirsch (11K)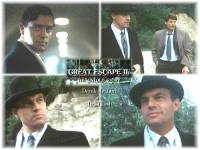 Click to view larger image of Derek de Lint as Dr. Thost (56K)
USA by Michael Jaffe Films, Ltd. & Spectator Films
Language - English
Directors -
Judson "Jud" Taylor (1st Part)
Paul Wendkos (2nd Part)
Writer -
Walter Halsey Davis
(screenplay based on the novel by Paul Brickhill)
Cast:
Christopher Reeve - "Major John Dodge"
Judd Hirsch
Anthony John Denison - "Captain Corey"
Charles Haid
Michael Nader - "Burchardt"
Ian McShane
Derek de Lint - "Dr. Thost"
Donald Pleasence - "Absalon"
Andrew Bicknell - "Wings Day"
Manfred Andrae - "Col. Von Lindeiner"
Martin Umbach - "Pieber"
Karl-Heinz Knaup - "Max Wielen"
Karlheinz Lemken - "Herr Schmidt"
Ron Donachie - "Al Hake"
Peter Dennis - "Captain Massey"
Click here to view more extensive credits at the IMDb
Derek de Lint plays "Dr. Thost" who gets Major John Dodge out of the Gestapo's prison and enables him to cross into Switzerland to get to his consulate.
Description from the back of the video box (© Vidmark):
"Major John Dodge (Christopher Reeve) organizes and leads his men on a daring escape under extremely difficult conditions. Seventy-five men bust out, but fifty are captured, and most are savagely murdered by a maniacal Death Squad.
"Having fled to England, Dodge and the survivors plan a daring return to Germany. Utilizing their unique skills and expertise they form a specialized task force and infilitrate the hierarchy of those responsible for these heinous crimes. Their objective is the brutal revenge of those guilty (especially Burchardt) for the execution style murder of his men...at any cost."
Photos added 1/3/99
Photos are copyrighted by the respective owner(s) of THE GREAT ESCAPE II