Click on a thumbnail to view its larger image in a new window:







Brett Marx, Rod Steiger, Louise Fletcher
Real™ Video Clip of Derek de Lint as Lt. Steiner (singing!)

Canadian French: La Belle étoile
Derek de Lint as "Lieutenant Steiner"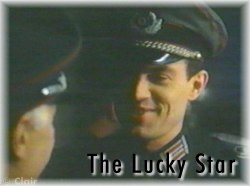 [click photo above to view larger image sans text]
CANADA | Tele-Metropole International
ENGLISH
Director - Max Fischer
Writers - Max Fischer, Jack Rosenthal
Won Genie Award (Academy of Canadian Cinema & Television) in 1981 for Best Sound Editing and Best Music Score and was a nominee for for Best Motion Picture.
"Entertaining tale of a young Jewish boy whose parents are taken away by the Nazis. He is sheltered on a Rotterdam farm and singlehandedly goes up against a German Colonel." - Copyright © 1998 by Leonard Maltin
This was one of the most uniquely done films I've ever seen about WWII ... slash a good ole fashioned cowboy showdown (thanks to the imagination of the young boy and an excellent music score) with the Nazis in Holland and there ya go. Once again, Derek looks superb in uniform, playing a Nazi lieutenant.
Cast:
Rod Steiger - "Colonel Gluck"
Louise Fletcher - "Loes Bakker
Lou Jacobi - "Elia Goldberg"
Brett Marx - "David Goldberg"
Yvon Dufour - "Burgomeister"
Helen Hughes - "Rose Goldberg"
Isabelle Mejias - "Marijke"
Jean Gascon - "the Priest"
Kalman Steinberg - " Salomon"
Pierre Gobeil - "Peter"
Guy L'Ecuyer - "Antique Dealer"
Rijk De Gooyer - "1st Gestapo Officer"
Joop Admiraal - "Thomas"
Derek de Lint - "Lieutenant Steiner"
More cast and crew info at the IMDb
Photos added to this page on 10/08/99
Credits: IMDb
Thanks to Frank Garcia in Vancouver, BC, Canada
for taping this rare film off of the Bravo Canada channel.
Photos & video are copyrighted by the respective owner(s) of THE LUCKY STAR