View the Slideshow
with over 100 pics from the entire series, with captioning. (spoilers included!) Over half the pics include Derek de Lint's character.
Click on a thumbnail to view its larger image in a new window: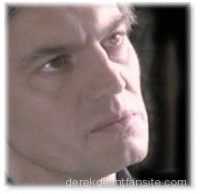 Derek de Lint as
"Maestro Roberto Rannaldini"
UK/United Film and Television Production for Anglia Television Entertainment in association with Blue Heaven Productions
ENGLISH
150 minutes long
Director - Robert Knights
Writers -
Harvey Bamburg and Andrew Maclear (screenplay)
Jilly Cooper (novel)
Produced by - Irving Teitelbaum
Executive Producer - Neil Zeiger (Blue Heaven Prod.)
Production Executive - David Fitzgerald
Executive Producer - Sarah Lawson (ATE)
Cast:
Stephen Billington - "Lysander Hawkley"
Gilly Comack - "Marigold Lockton"
Kim Criswell - "Georgie Maquire"
Hugh Bonneville - "Ferdinand Fitzgerald"
Derek de Lint - "Roberto Rannaldini"
Kate Byers - "Kitty Rannaldini"
Philip Bowen - "Guy Seymour"
Rhona Mitra - "Flora Seymour"
Rosalind Plowright - "Hermione Harefield"
Nicholas Ball - "Larry Lockton"
Ravil Isyanov - "Boris Levitsky"
Sandra Reinton - "Julia"
Trevor Bowen - "David Hawkley"
Nicola Cordey - "Nikki"
British miniseries. And no, Derek doesn't play "the man" who made all those hubbies jealous, but he certainly could have in another movie, eh? ;-) His role as "Maestro Roberto Rannaldini" must have been a royally fun character to act as (in comparison to say, Derek Rayne! ;-) since the Maestro is a real egotistical S.O.B. who treats his wife, Kitty, like dirt. During the course of the series, the Maestro gets riled up by an up-and-coming composer and whacked on the head by his mistress after getting caught with a nymphomaniac pupil.
From the back of the video box (copyright © 1998 Anglia Television Entertainment):
Based on the movie by blockbuster British novelist, Jilly Cooper, this is a lavishly entertaining, romantic comedy.

Lysander Hawkley is almost 23 and heart-stoppingly handsome. He is tall, broad-shouldered, wildly affectionate and has a wall-to-wall smile which withers women.

Athletic and good at almost everything, except making a living, Lysander is shepherded through life by his friend, Ferdie Fitzgerald. When Lysander's name is all over the newspapers for having been caught in bed with another man's wife, Ferdie gets the idea that Lysander might be able to make a career of making husbands jealous.

In the small village of Paradise, peoples' marriages are under stress. Paradise husbands seem to have mistresses like they have fax machines and mobile phones. The wives are losing confidence. What better than to make their husbands jealous by seeming to start an affair with an extremely attractive younger man?

From rock stars to wealthy women, Lysander leaves a trail of feminine delight and husbandly rage.
Debbie's Stephen Billington Home Page - an excellent unofficial site for the brilliant young actor who played "Lysander." Debbie was the first to bring the web some superb video captures and sound files from "The Man..."; I was the second to put up pics with obviously a wee bit more of the Maestro. :-)
Leave your review or buy the 2-volume video set of the UK tv series at Amazon.com
Pics added 1/24/99
Slideshow added 2/2/99
Links added 2/15/99
Photos (including slideshow photos) are copyrighted by the respective owner(s) of THE MAN WHO MADE HUSBANDS JEALOUS