Click on a thumbnail to view its larger image in a new window:

Derek de Lint as "Carl" in the lab where the "time machine" resides.



Derek de Lint's character discussing time travel with "Andrew" (Rick Roberts)








Rick Roberts as "Andrew"


Laurie Holden as "Susan"
Real™ Video Clip:
Derek's character has a lengthy discussion with Andrew about time travel and its possible consequences. (2 min 4 sec)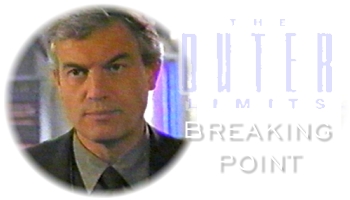 The Outer Limits - Season Six Episode - "Breaking Point"
Check the Sci Fi Channel for future airdates
Trivia: This episode went into production the week of 10/04/99.
First air date: February 18th on Showtime (US pay cable movie channel)
Director: Neill Fearnley
Writer: Grant Rosenberg
Co-Producer: Scott Peters
Co-Executive Producers: Brent Karl Clackson, Chris Ruppenthal
Executive Producer: Sam Egan
Cast (in credits order):
Rick Roberts - "Andrew McLaren"
Laurie Holden - "Susan McLaren"
Patricia Harras - "Amy" Susan's Sister
William DeVry - "Craig Swenson" Susan's office mgr
Derek de Lint - "Carl or Karl" (not sure their choice of spelling for this character) - Andrew's co-worker and friend
"An ambitious scientist uses a time machine to travel forward in time to discover that his wife has been murdered and that he is the prime suspect." - Showtime
Derek plays a co-worker and friend of Andrew's who tries to help Andrew make sense of what can and can't happen with time travel - can Andrew undo what is done in the future?
Updated 01/19/00 with airdate.
Updated 01/28/00 with logline.
Updated 04/08/00 with more detailed credits and photos.
Videoclip created 06/21/00
The Outer Limits™ is a registered trademark of MGM. All Rights Reserved by MGM.
Photos & video are copyrighted by the respective owner(s) of THE OUTER LIMITS