Click on a thumbnail to view its larger image in a new window:

Derek de Lint as the alien
High Centurion Officer









Robbi Chong


Nathan, Angeline, Natasha
Real™ Video Clip of Derek de Lint as the High Centurion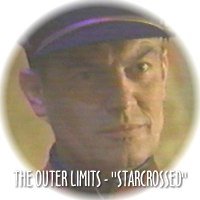 (Season Five)
Derek de Lint as "Sulat Ray" in "Starcrossed"
First aired: August 13th, 1999 on Showtime (US pay cable movie channel)
Director - Helen Shaver
Supervising Producer - Naren Shankar
Executive Producer - Sam Egan
Produced by Brent Karl Clackson
Written by Chris Ruppenthal
Cast (same order as in the opening credits)
Angeline Ball - "Cass Trenton"
Nathan Fillion - "Michael Ryan" (nightclub owner)
Justin Louis - "Winston Meyerburg" (Cass' team member)
Robbi Chong - "Teresita Arboleda" (Bartender)
Natasha Vasiluik - "Alexandra Nevsky" (Russian officer)
and
Derek de Lint - "Hing Commander, Sulat Ray" (I swear it sounded like he said his name was "Rayne" when I first saw the ep!)
Earth in the 2050s in the city of Archangel - after several years of war a truce is in effect between a humanoid alien race called the Hing and humans. The aliens got to keep what land they won during the war and Archangel is under their control. Cass (who has a parasite in her that's blood is deadly to the aliens and she needs to get it to the right people so they can use it against the aliens) and her team member, Winston, find themselves in Archangel with an urgent need to find a ship to get out of there with. Lo and behold, she runs into her old lover/fellow soldier Michael Ryan. She thought was dead prior to meeting him again when she goes into the nighclub Heaven to find the owner who can get her that ride out of the city. Derek plays the High Centurion (alien Hing commander) who seeks Cass and her team member. He's devilishly charming as the very authoritative bad guy. Robbi Chong plays Michael's coffeehouse bartender-gone-traitor called "Teri" for short.
The "official" description of the episode:
"It is 2056, six years after the Hing, a humanoid race, invaded earth. While America fights on, Russia has reached an uneasy truce with the aliens, leaving some regions under their control and other declared neutral. In the neutral city of Archangel on the Barent Sea, cynical American expatriate Michael Ryan (Nathan Fillion) runs Heaven, a small coffee bar and music club, where shady Russians mingle with Hing soldiers and other dubious characters. Everything is agreeably corrupt until Alexandra Nevsky (Natasha Vasiluk) informs Michael that Hing commander Sulat Ray (Derek de Lint) is on the lookout for two NATO soldiers who might be interested in buying a Hing scout vehicle has gone missing. Those soldiers, Winston Meyerburg (Justin Louis) and Cass Trenton (Angeline Ball) have dodged Hing patrols and found their way Michael's bar. Cass, who was Michael's lover before the war – she only took up with Winston because she thought he was dead – suspects Michael can get them the scout vehicle. She appeals to his sense of patriotism, revealing that she is carrying a deadly parasite that she and Winston stole from the Hing and, if it can be replicated, might defeat the Hing. But it becomes clear that it's going to take more than flag-waving and high ideals to get Michael to risk his neck in this situation."
- © 1999 Metro-Goldwyn-Mayer Inc. All Rights Reserved.
Updated 11/23/99 - completed credits with corrected character names and official description.
The Outer Limits™ is a registered trademark of MGM.
Photos & video are copyrighted by the respective owner(s) of THE OUTER LIMITS