Click on a thumbnail to view its larger image in a new window:








Our thanks to Suzy Redfern for the photos!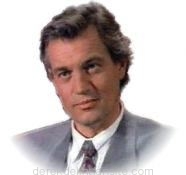 Derek de Lint as "Dr. Estes"
First Air Date: 5/10/94
Director - Helaine Head
Hal Holbrook - "William McKenzie"
Barbara Hale - "Della Street"
William R. Moses - "Ken Malansky"
Dixie Carter - "Louise Archer"
Diahann Carroll - "Lydia Bishop"
James Stephens - "Daniel Kingman"
Molly Hagan - "Laurel Crown"
James McEachin - "Lt. Brock"
Derek de Lint - "Dr. Estes"
More cast and crew info available at the IMDb
This was one of the Perry Mason mystery made-for-tv movies that was made after actor Raymond Burr died.
Credits derived from us.imdb.com
Photos (added 06/11/00) are courtesy of Suzy Redfern. Thanks to her video capturing talents and for sharing these photos with the rest of us DdL fans!

Photos are copyrighted by the respective owner(s) of the PERRY MASON series.