Click on a thumbnail to view its larger image in a new window:







Derek de Lint and Rutger Hauer's characters doing the Tango!


Poster from Soldier of Orange
ORDER DVD or VIDEO:
Wide-screen format with
English subtitles:
DVD (Region 1)
VHS (NTSC)
DVD (Region 2, PAL)
English: Soldier of Orange
(aka Survival Run, shorter dubbed-in-English)
1980 Winner of LA Critics Award for Best Foreign Film
Nominated for 1980 Golden Globe for Best Foreign Film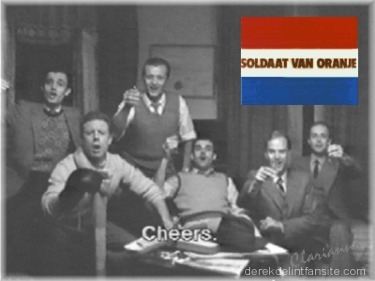 Derek de Lint as "Alex" (in far left, top row)

Director - Paul Verhoeven
Country - The Netherlands
Production Company - Film Holland
Language - Dutch, English
Filmed in Scheveningen, Leiden & Noordwijk, Netherlands and London, England, UK
Based on the book by Erik Hazelhoff Roelfzema.
Rutger Hauer gives an awesome performance as the lead in this war adventure movie. De Lint plays "Alex", one of four college buddies who fight against the Nazis when they invade Holland. It covers WW II frm beginning, through the Nazi Occupation to their liberation.
Cast:

Rutger Hauer - "Erik"
Jeroen Krabbé - "Gus"
Susan Penhaligon - "Susan"
Edward Fox - "Colonel Rafelli"
Lex van Delden - "Nico"
Derek de Lint - "Alex"
Crew:
Writers - Erik Hazelhoff Roelfzema (novel), Cornelius Hollerhoek, Gerard Soeteman, Paul Verhoeven
Cinematography -Jost Vacano
Original music - Rogier van Otterloo
Costume Design - Elly Claus
Film Editing - Jane Sperr
Producer - Rob Houwer
Art Director - Roland De Groot
Erik Hazelhoff Roelfzema Home Page
Soldier of Orange movie page (English)
Rutger Hauer - Soldier of Orange/Survival Run Page
us.imdb.com extensive listing for Soldier of Orange
Links updated 10/17/99
Added DVD/VHS links 09/09/2000
Added Region 2 DVD link 04-MAY-2002
Photos are copyrighted by the respective owner(s) of SOLDAAT VAN ORANJE